Skip to Main Content
It looks like you're using Internet Explorer 11 or older. This website works best with modern browsers such as the latest versions of Chrome, Firefox, Safari, and Edge. If you continue with this browser, you may see unexpected results.
What are Licensing & Creative Commons?
Creative Commons is a free licensing system that allows the author of a work to specify how that work can be used by others. Even though the author retains full copyright, the Creative Commons (CC) license gives others the legal permission to copy and use the work. Creative Commons licenses are not an alternative to copyright. The licenses apply on top of copyright, so you can modify your copyright terms to best suit your needs.
Works held under a Creative Commons Licenses are indicated with a
symbol. Additionally, CC works can have four other rights attached to the licenses that add or subtract certain permissions. These rights can be combined into six different Creative Commons Licenses as illustrated below: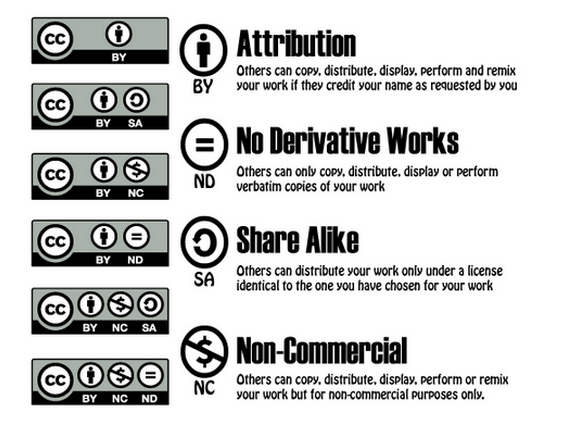 "How to License Poster" by Creative Commons is licensed under CC BY 4.0
---
Why do we need Creative Commons' Licenses?
Creative Commons Licenses encourage sharing. They ensure that content is freely available for the 5Rs of Open Education - revise, reuse, remix, redistribute and retain. These permissions allow you to download material, tailor it to your needs, save a copy, and share it while still protecting the original authors rights.
If you are a student or educator looking for learning resources that you can freely and legally use, Creative Commons Licenses let you know which items are available for free use and how to give the creator credit. .
If you have created resources and want people to know that you are happy to have them share, use, and build upon your work, you should consider publishing under a Creative Commons license. CC's legal infrastructure gives you flexibility and protects you and the people who use your work.
---
How do we use Creative Commons' Licenses?
Before using CC licensed work, check the specific license to confirm permissions and restrictions. Not sure? Ask a campus librarian for assistance!
Using a CC Licensed Work?
When using a Creative Commons work, be sure to attribute the author or creator. The Open Attribution Builder can help with proper syntax.
Licensing Your Work?
The Choose a License Tool will walk you through a few questions to help you determine which freedoms and restrictions you would like to allow for your work.